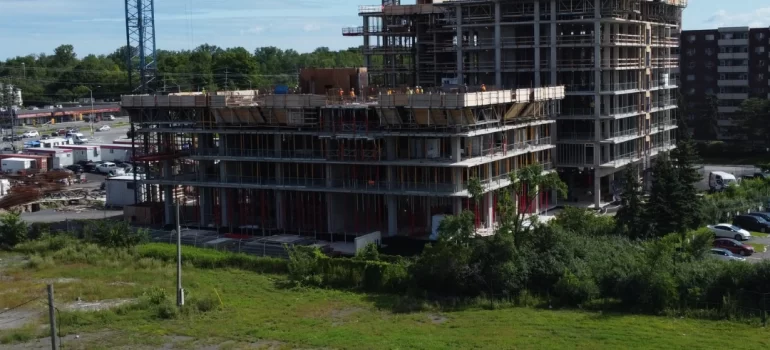 August 15, 2023
The modern commercial landscape is characterized by rapid change, economic pressures, and an unyielding demand for efficiency. For businesses looking to construct new facilities or revamp existing spaces, the methods they choose can significantly impact both their budget and project outcomes. Enter prefabricated wall panels—a game-changer in the construction industry. Let's delve into the myriad of benefits these innovative construction components bring to the commercial world.
1. Speedier Construction Timelines
Hit the Ground Running: In the dynamic world of commerce, time is often equated with money. Prefabricated wall panels are produced in a factory setting, allowing construction projects to progress without being hampered by external factors like adverse weather. This ensures that businesses can commence operations in their new spaces much faster than with traditional building methods.
2. Cost-Efficiency and Predictability
Budget-Friendly Building: Prefabrication means a significant portion of labor is conducted off-site, often leading to reduced overall labor costs. Moreover, with the majority of construction expenses determined upfront, businesses can better predict and adhere to their budgets, avoiding unexpected financial hiccups.
3. Superior Quality and Consistency
Meeting High Standards: The controlled environment of factories ensures that prefabricated wall panels are produced under stringent quality control measures. The result? Panels that boast consistent quality and are free from defects that can arise from on-site constructions, like weather-induced damages.
4. Enhanced Design Flexibility
Tailored to Business Needs: While 'prefabricated' might sound rigid, the design potential is vast. Businesses can customize panels to align with their brand aesthetics or specific functional requirements. Whether it's a chic façade for a boutique or reinforced walls for a warehouse, the possibilities are broad.
5. Sustainability and Green Building
Eco-Friendly Endeavors: With global attention pivoting towards sustainable practices, businesses are increasingly conscious of their environmental footprint. Prefabricated panels often result in reduced construction waste. Moreover, many panels come with insulation properties that aid energy efficiency, ensuring businesses can flaunt their green credentials.
6. Safety First: Minimized On-Site Risks
Building with Care: Traditional construction sites can be rife with potential hazards. Since a significant chunk of the construction work with prefabricated panels is done off-site, there's a marked reduction in on-site accidents or mishaps. For businesses, this means fewer delays and reduced liabilities.
7. Integration with Modern Technologies
Smart Spaces: Many prefabricated wall panels can be integrated seamlessly with modern tech infrastructure, from embedded conduits for electricals to provisions for smart building systems. This ensures businesses are future-proofed from the outset.
8. Scalability for Expanding Enterprises
Growing Pains Eased: As businesses evolve, their spatial needs can change. Modular nature of prefabricated wall panels makes future expansions or modifications more straightforward. Businesses can adapt their spaces to their shifting needs without starting from scratch.
Conclusion: A Robust Option for Modern Businesses
Prefabricated wall panels are not just a fleeting trend in the commercial construction sector. They represent a tangible shift towards efficiency, quality, and adaptability. For businesses aiming to optimize their investments, remain agile, and uphold a commitment to quality and sustainability, these panels offer a compelling solution.
In the ever-competitive world of commerce, where every advantage counts, it's clear why many are choosing prefabricated wall panels for their construction endeavors. The future of commercial construction is here, and it's modular, efficient, and tailored to the evolving needs of the business realm.
Contact RGZ Cambridge today for all your prefabricated wall panel needs: We are industry leaders in Commercial and Residential projects. Call us today: 613-695-5544 or reach us via this page.