Drywall Taping and Mudding
Drywall taping and mudding is the process that connects pieces of drywall to a solid wall. We use drywall tape and multiple coats of drywall compound to secure the joints and to cover any exposed screws and nails. Our team of professionals create an end product that is flat, smooth and seamless. The perfect blank canvas, whatever your design aesthetic!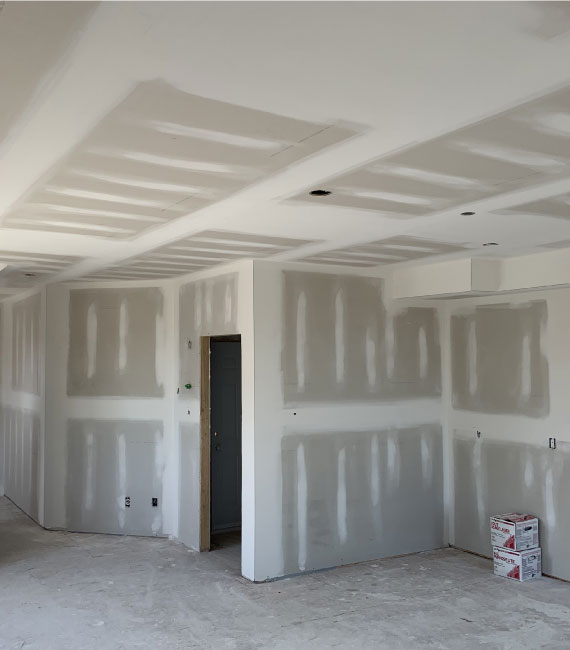 The Process
Taping is the first step in the mudding process. It may seem like a tedious part of the process, but it's essential to making your walls look their best. When you're taping your wall, your goal is to cover any joints that are more than 1/2 an inch. There are two ways to do this. You can put the tape on the wall, then put the panels over the tape. Or you can put the tape on the back of the panel and then attach the panel to the wall.
Both methods work, so it's a matter of personal preference. When you're taping your drywall joints, you should create a smooth finish. Any bumps or ridges in the tape will show in the final wall, so be sure to smooth the tape as you put it up. Also, make sure that each line of tape is even so the joints between panels are even.
The mudding process is the final step in finishing your wall. When you put joint compound over your tape, you create a seamless finish that is ready for primer and paint. When you're ready to start mudding, make sure that your wall is clean and dry. Any water on the wall will cause the joint compound to fail, so make sure your wall is as dry as possible.
The first step in the mudding process is applying a layer of joint compound to the wall. There are two ways to do this. You can use a mud roller to push the compound across the wall. Or you can use a wide taping knife to spread the compound. When you're using a taping knife, be sure to use long, smooth strokes.
If you try to push the compound too hard, you may end up with bubbles in your wall. Bubbles can be difficult to get rid of, so be careful.
RGZ Cambridge is your best choice for professional services. Contact us today