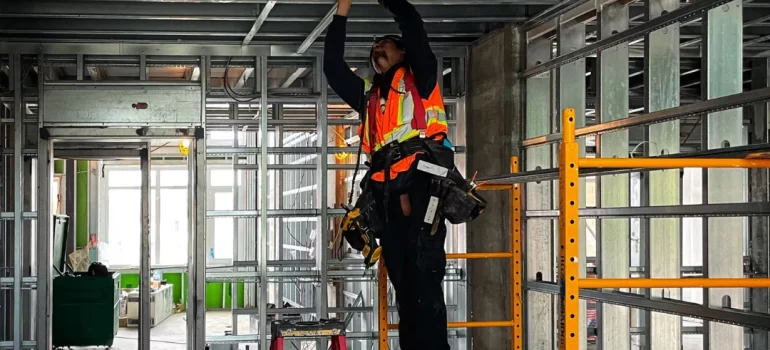 August 28, 2023
Steel stud framing, often touted for its strength, versatility, and fire resistance, is no newcomer to the construction industry. But how did this modern marvel evolve? Let's embark on a journey through time, tracing the roots and development of steel stud framing.
From Iron to Steel: A Material Revolution
Iron Beginnings
Our story begins not with steel but with its predecessor: iron. Iron has been used for thousands of years in construction, from ancient pillars to the famed Eiffel Tower. This resilient metal laid the groundwork for the development of its more sophisticated counterpart – steel.
Birth of Steel
The late 19th century marked the mass production of steel, a robust and more malleable material. The Bessemer process and later, open-hearth furnaces, allowed for the production of steel in large quantities. The construction industry was quick to recognize steel's potential, with skyscrapers in burgeoning cities serving as early testaments to its strength.
The Rise of Steel Framing
Early Adoptions
In the early 20th century, architects and builders began to experiment with steel as a primary framing material. Its high strength-to-weight ratio made it a preferred choice for skyscrapers, allowing them to soar to new heights. The iconic Empire State Building, completed in 1931, stands as a shining example of early steel framing prowess.
War & Reconstruction
World War II drastically impacted steel production, with much of it being diverted for wartime efforts. However, post-war reconstruction efforts created a surge in demand for efficient building techniques. Steel stud framing emerged as a solution, offering rapid construction without compromising on structural integrity.
Advancements in Techniques
Cold-Formed Steel Framing
By the mid-20th century, cold-formed steel (CFS) framing began gaining traction. This process involves shaping steel at room temperature, thus conserving energy. CFS framing revolutionized the residential and light commercial construction sectors due to its cost-effectiveness and ease of installation.
Innovations in Connections
With the rise in popularity of steel stud framing, there was a pressing need for efficient connection methods. The advent of welding technology and the development of specialized fasteners ensured that steel frames were not only robust but also seamlessly integrated.
Steel Stud Framing Today
Sustainability Efforts
In today's age of environmental consciousness, steel stands out for its recyclability. Modern steel stud framing heavily incorporates recycled materials, making it a sustainable choice. Furthermore, advancements in production methods have reduced carbon emissions, bolstering steel's eco-friendly credentials.
Prefabrication Boom
The 21st century has seen a shift towards prefabricated steel framing. By manufacturing steel components off-site and assembling them at the construction site, builders can ensure precision, reduce waste, and accelerate project timelines.
Global Architectural Influence
Modern architecture worldwide showcases the aesthetic flexibility of steel framing. From minimalist homes to expansive commercial spaces, steel's adaptability allows architects to bring diverse visions to life.
Looking Ahead: The Future of Steel Stud Framing
As we venture into the future, it's clear that steel stud framing will continue to evolve. With ongoing research into corrosion resistance, thermal efficiency, and innovative design applications, steel framing promises to remain at the forefront of construction advancements.
Conclusion
The journey of steel stud framing is a testament to human ingenuity and adaptability. From ancient iron constructs to state-of-the-art steel-framed edifices, this construction technique has grown, adapted, and innovated. As we appreciate the rich history of steel framing, it's exciting to ponder the architectural marvels yet to come.
Contact RGZ Cambridge today for all your steel stud framing needs: We are industry leaders in Commercial and Residential projects. Call us today: 613-695-5544 or reach us via this page.