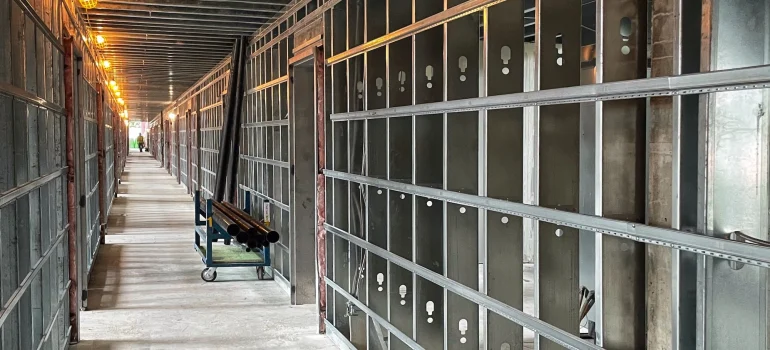 September 22, 2023
When it comes to constructing buildings, versatility and adaptability are paramount. In the world of construction, one material stands out for its remarkable versatility – steel. Specifically, steel stud framing has emerged as a game-changer, proving its worth in both towering skyscrapers and cozy residences. In this comprehensive exploration, we will delve into the versatility of steel stud framing and how it has transformed the construction landscape.
Understanding Steel Stud Framing
Steel stud framing is a construction technique that replaces traditional wooden framing with steel studs or columns. It is characterized by its strength, durability, and flexibility, making it suitable for a wide range of projects.
Steel stud framing typically consists of steel studs, tracks, and fasteners. These components work together to create a framework for walls, ceilings, and even floors, providing structural support and stability.
The Versatility of Steel Stud Framing
Sky-High Buildings: Steel stud framing has become a cornerstone in the construction of skyscrapers. Its remarkable load-bearing capacity and resistance to structural movement make it an ideal choice for tall buildings that must withstand wind forces and seismic activity. Whether it's the towering skyline of a bustling metropolis or the iconic silhouette of an architectural masterpiece, steel stud framing is the hidden strength behind these structures.
Commercial Marvels: Commercial buildings, such as offices, shopping malls, and hospitals, demand adaptability in their design and construction. Steel stud framing offers the flexibility to create open floor plans, accommodate mechanical systems, and ensure fire safety compliance. Its efficiency and speed of construction are essential for meeting tight deadlines in the commercial sector.
Residential Comfort: In the realm of residential construction, steel stud framing is gaining popularity for its numerous advantages. It provides a sturdy framework for homes, offering enhanced insulation, fire resistance, and soundproofing. Moreover, steel framing is resistant to pests, mold, and rot, ensuring the longevity of the structure. Whether it's a single-family home or a multi-unit residential complex, steel stud framing is a versatile choice for comfortable living.
Advantages of Steel Stud Framing
Strength and Durability: Steel stud framing is renowned for its strength and durability, capable of withstanding extreme weather conditions, seismic activity, and the test of time. This reliability ensures the safety and longevity of buildings, regardless of their purpose or scale.
Precision and Consistency: Factory-made steel studs and tracks are manufactured to precise specifications, reducing the likelihood of errors during construction. This level of precision ensures consistent quality and a seamless building process.
Sustainability: Steel is a recyclable material, making steel stud framing an eco-friendly choice. Its sustainability extends to energy efficiency, as steel framing can accommodate advanced insulation solutions, reducing energy consumption and environmental impact.
Conclusion
Steel stud framing has proven its remarkable versatility, from supporting skyscrapers that touch the clouds to crafting comfortable residences that stand the test of time. It's a testament to the strength, adaptability, and reliability of this construction technique.
When you embark on your next construction project, whether it's a soaring commercial marvel, a cozy residential haven, or anything in between, choose the expertise and innovation of RGZ Cambridge. With over 20 years of experience in both residential and commercial projects, we are well-versed in harnessing the versatility of steel stud framing to create exceptional structures.
Your vision deserves the strength and adaptability of steel stud framing. Contact RGZ Cambridge today and let's build together.